Corporate Exhibition Opportunities at IcAUMS-ISAMMA 2020
Date
Available Time
Remarks
Date & Time
Dec. 14 (Mon.)
9am – noon
1pm – 7pm
Materials setup
Bierstube: 5pm-7pm
Dec. 15 (Tue.)
9am – 7pm
Bierstube: 5pm-7pm
Dec. 16 (Wed.)
9am – 1pm
Excursion & Banquet will be
held in the afternoon.
Dec. 17 (Thu.)
9am – 1pm
Closing remarks will be held
in the afternoon.
1pm – 4pm
Materials clearance
Place
Conference Room A1, Okinawa Convention Center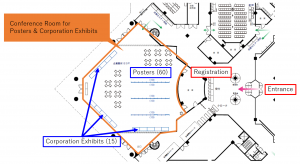 Corporate exhibition space will be available during the Joint IcAUMS-ISAMMA 2020 conference. As shown in the above venue map, the exhibition hall, which is located near the registration desk and is the largest room at the conference venue, will be the perfect place to communicate with the many participants. Conference poster presentations and Bierstube will also be held in the same room.
This is a great opportunity to showcase your products and technologies to leading researchers, engineers and students with a broad range of interests in magnetism, magnetic materials and their applications. Exhibits will include instrumentation, process tools, materials and other associated technologies and products. Corporate exhibits by overseas companies are also welcome. In such a case, please consult with the agency regarding the export/import procedure.
We also welcome corporate ads for the program booklet and the digests of Joint IcAUMS-ISAMMA2020.
For more information on exhibiting and advertising at this conference, please contact the agency below.
Kagaku Gijutsu-Sha
Takeda Bldg. 4F
2-10-8 Yanagibashi, Taito-ku, Tokyo 111-0052
Tel: +81-3-5809-1132
Fax: +81-3-5809-1138
Email: info@kagaku.com
The final list of corporate exhibits will be uploaded to this page prior to the conference.